Information
PDO Threads And Lift Procedure Information
PDO (polydioxanone) is a biodegradable synthetic polymer thread (suture) inside the lumen of a needle. Threads come in a few different types for different areas and targeted effects: smooth, twisted, and barbed. Threads range from tiny thin to heavy and thick; from ~ 1.5 to 6 inches in length. Barbed have the ability to immediately pull the skin up to 1 cm, in addition to the gradual tightening and volumizing effect they provide.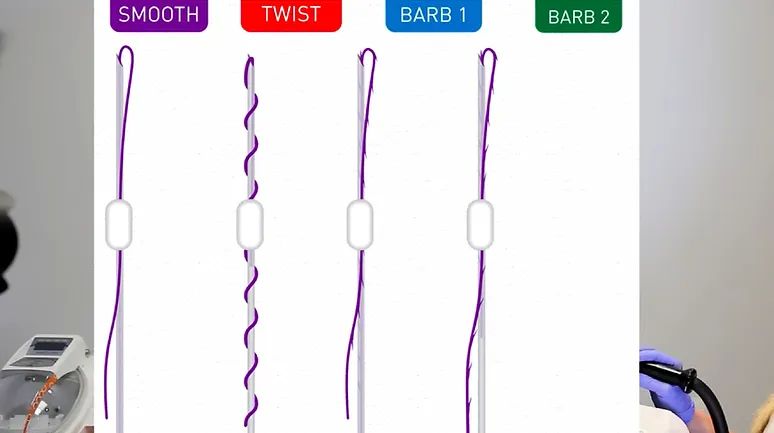 When implanted into the subcutaneous layer of the skin (at about 5mm deep) these sutures create micro-injuries that stimulate new collagen production, blood vessel growth, and tissue contraction. They remain there until it naturally dissolves over 6-8 months by simple hydrolysis, but they leave behind lasting effects long after the sutures have dissolved: for 18-24 months.


PDO (polydioxanone) threads are placed just below your skin and stimulate the following effects on the skin:
Instantly lifts skin via a mechanical effect
Stimulates fibrin and elastin to produce collagen which improves skin texture, fine lines, and elasticity
Stimulates new small blood vessel formation that supports skin tissue growth
Tightens skin by contracting the underlying fat and muscle

Threads can correct horizontal and vertical forehead wrinkles, lift your brow, smooth out your lower eyelids and cheeks, minimize nasolabial folds and marionette lines, smooth out crow's feet lines and "smokers'" lip lines, and redefine your jawline. PDO threads are also effective for tightening sagging skin and adding volume in the neck, decollete, breast, abdomen, buttocks, and thighs.

Threads are placed with a very little discomfort due to topical cream anesthesia that is applied 20 min prior. The downtime is generally none, but you will feel face tightness for 3-5 days after the procedure. There is no scarring and minimal if any bruising. The procedure can last from 15 to 60 minutes depending on the size and complexity.